Master boot record
First sector of a physical hard disk.
This sector is not a part of any partition (OS or data).
Contains two parts:

MBR bootstrap program to locates the boot sector of other partitions.
Partition table contains a master list of all available partitions on all available disks.

Master boot record is detected by boot signature (magic number).
MBR Partition table
Apply to a hard disk drive, use to manage partitions in disk
16 bytes, total's 64 bytes. Limited to 4 entries. To create more, use an extended partition.
Maximum size of a single MBR partition is 2TB.
Elements:

Boot indicator: inactive - active/bootable partition
Bits to define Starting head, sector and Cylinder
System ID: define filesystem of the partition (ext2, fat32, NTFS, etc.)
Relative sector
Total sectors in the partition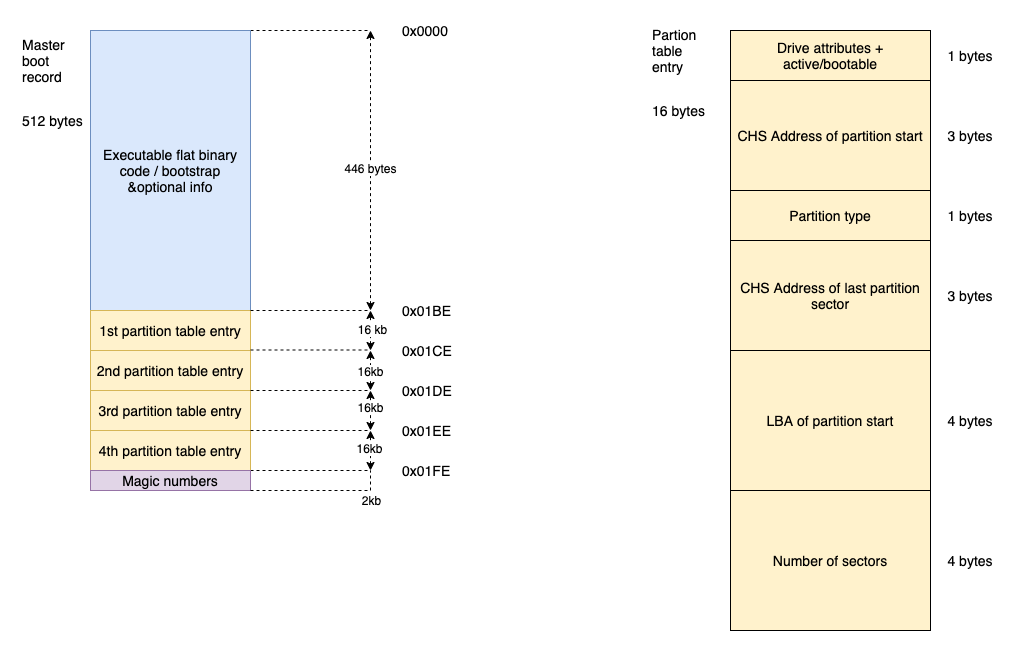 Extended partitions
A solution to add more than 4 partitions to the partition table.
Partition can have one and only one entry with SystemID = 0x5 or 0xF to define as an extended partition.
Extended partition is a physical partition that's subpartitioned into "logical" partitions.
partition table entry describing it has a StartLBA and NumSectors that describe the space inside which any number of logical partitions may sit.
At the start of an extended partition is an extended partition table. Format of extended partition table is same with MBR partition table.
Master Boot Record sequence
After BIOS finish their job, they load the first sector (512 bytes) of devices (Hardisk, disc, USB, etc.) to check boot signature.
The boot signature is called a magic number. If a device has a boot signature, it's can bootable.

Boot signature is in a boot sector number 0.
Contains byte sequence: 0x55, 0xAA at byte offets 510 (0x1FE) and 511 (0x1FF).
0x1FE and 0x1FF is 2 last bytes of 512 bytes of the first sector.

When BIOS recognize a boot device, master boot record is loaded into memory at 0x0000:0x7c00 (sector 0, address 0x7c00) from this device. It contains executable code.
Execution is transferred to the loaded boot record bootstrap program.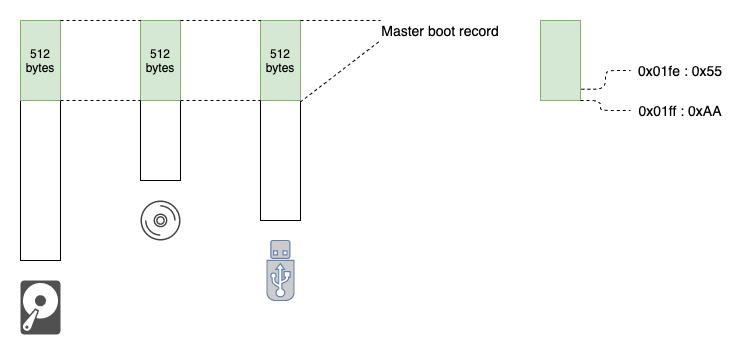 Master boot record bootstrap program:
Currently, the DL register is set to "drive number" that MBR was loaded.
Master boot record process relocates itself away from 0x7c00: memory copy and far jump.
Determine which partition/device to boot OS. If the user selects inactive partition, then set the partition chosen entry to active and clear active state from others.
Rewrite MBR if the partition table entries were modified.
Load Volume Boot Record (boot sector of bootloader) from selected partition.
Set DS:SI pointing to the selected partition table entry.
Jump to 0x7c00 (with CS set to 0, and DL set to the "drive number").
Volume boot record
First sector of the first partition containing the OS.
Contains boot loader code and some file system info.
Bootloader
A program is in the boot sector (master boot record or Volume boot record).
Use to loads OS kernel.